Guernsey trainee fishing scheme 'a total joke'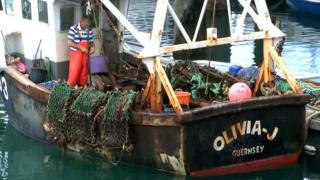 A scheme to encourage young Guernsey islanders to start a career in commercial fishing is a "total joke" according to a local fisherman.
It was introduced by the States in September 2013 and enables under-25s to run a small boat for three years as an apprenticeship, before investing in a full licence.
So far one person has been granted a licence and one more has applied.
Fisherman Graham Eker said it was very difficult to make money from fishing.
'Dying fleet'
He said: "It is a total joke. Over the last few years they brought in licensing, you had to have a licence and so it was illegal to land fish without a licence.
"A lot of people would still land without a licence in small boats. A lot of guys played the game though, they brought a licence, it cost them a couple of thousand quid.
"The fleet in Guernsey is dying, it is a quarter of what it was years ago. The only ones still fishing are the ones that can afford to earn less.
"You won't find a youngster with a family to feed in the fleet."
A successful applicant to the scheme is issued with a three-year fishing licence to operate a small boat before they apply for a full licence themselves.
Sea fisheries officer David Wilkinson said it showed that times were tough for local seafarers.
"It does show you how difficult it is to make a living in the fishing industry and our scheme is an attempt to assist fishermen in one of the most expensive aspects of entering the industry, that is their fishing licence."