Condor Ferries 'June deadline' sparks States questions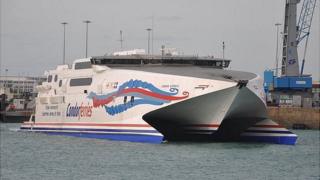 Formal questions have been lodged in the States after Condor Ferries said it would only buy a new £50m ferry if its licence is extended to 10 years by the end of June.
The company is currently licensed to serve the Channel Islands until 2018.
Chief executive James Fulford said such a large investment required more certainty.
Deputy Sean Power said he wanted to ensure any agreement was not exclusive.
"We need certainty to have a long-term enough licence for us to able to invest," said Mr Fulford.
"For all this to work that is going to need a decision by the end of June and that in turn is enough to enable us to invest in the new ferry."
Pretty unusual
Deputy Power, who entered Jersey politics as a ferry campaigner, said the length of the contract requested by Condor was unusual.
He said: "They're obviously trying to parallel this agreement with the financing of the ship, and I can understand that, but what we mustn't have happen in the Channel Islands is a better deal turns up with another French or UK port....and we have a situation where we can't look at that agreement."
Ports of Jersey chief executive Doug Bannister said both sides were getting "closer" to a deal.
The new larger vessel can be accommodated in the Channel Islands ports, but talks are continuing with Weymouth and Portland Borough Council over concerns the ferry could be too big for the harbour in Weymouth.