Guernsey Airport terminal 'may take 20 years to pay-off'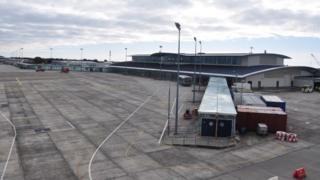 It could take up to 20 years for users of Guernsey Airport to pay back the cost of the terminal building, its director has said.
It opened in 2004 after coming in £7m over its original £16.4m budget.
Since 2003, Bailiwick passengers have paid £1 per trip to and from the islands and 50p for inter-island routes to pay back the amount.
Director Colin Le Ray said the time period could change if passenger numbers fluctuated.
The terminal was one of a number of capital projects that went over budget at the time, including St Peter Port Harbour's New Jetty and the redevelopment of Beau Sejour Leisure Centre.
It led the States in 2009 to introduce new financial checks and processes on the funding and review of capital projects.