Crashed Guernsey plane removed from site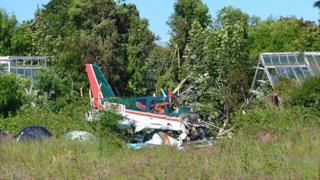 A plane which crashed in a field shortly after taking off from Guernsey Airport has been removed.
The two people in the light aircraft, registered in Norfolk, walked away with only minor injuries after the crash shortly after 17:00 BST on Tuesday.
BBC Radio Guernsey understands the occupants are John and Lynda Shaw.
Emergency services worked late into the night to deal with a fuel leak from the wreckage, which could have led to an explosion.
Some nearby homes were evacuated while the plane was made safe, but residents were allowed home by 21:00 BST.
Joan Wilson, who lives in a neighbouring property, said: "I just heard a loud bang. I saw it flying over and I thought it looked like an explosion.
"I heard the neighbours shouting and calling the emergency services."
The airport was closed for just over an hour while the Airport Fire and Rescue Service dealt with the crash.
Airport director Colin Le Ray said the single-engine private aircraft reported an incident to the east of the airfield shortly after take-off.
"The aircraft was actually holding on a tree vertically down with its tail in the air... one of the wings had completely severed during the accident and the second wing was partially severed," said Me Le Ray.
He said details of the incident including radar and radio recordings and photographs had been sent to the Air Accidents Investigation Branch (AAIB), which was looking into the crash.
The aircraft has been released by the insurers to be used by the Airport Fire and Rescue Service for training and has been moved to its drill site to the north of the runway.