Guernsey plane crash pilot 'lucky to be alive'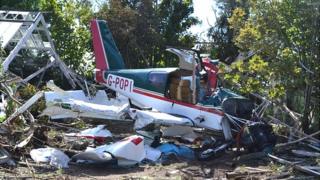 The pilot whose plane crashed into a field short of Guernsey Airport runway says he is "extremely lucky to be alive".
John Shaw and his wife Lynda had just left the airport on their way back to Seething Airfield, near Norwich, when problems developed.
Mr Shaw attempted to return to the runway, but ended up landing just short of the runway.
They received treatment for minor injuries. Mrs Shaw remains in hospital.
Mr Shaw told the BBC: "We're extremely fortunate to be alive... particularly given the likelihood of a fire in that kind of impact is very high.
"Although the outcome with regards to the plane was pretty catastrophic, we survived and given the extreme nature of the event that was a pretty good result."
He said of the crash: "I was unable to see anything due to smoke in the cockpit.
"We ended up crashing onto some disused greenhouses, which I think helped to cushion the impact."
The couple were able to get out of the plane, but Mr Shaw said: "We then found ourselves in the position where we were actually trapped within the greenhouses which were quite overgrown.
"It was not a pleasant place to be with over 200 litres of aviation fuel leaking from an aircraft, we were pretty keen to be away from that."
'Fantastic trip'
The couple were in the island as part of an air rally organised by Guernsey Aero Club.
Mr Shaw said: "It's the first time we've ever been, we've had a fantastic trip, it's such a shame it ended in the fashion it did."
He thanked the members of the club for their help and praised the professionalism of the emergency services and all the staff at the hospital.
Mr Shaw also apologised for the disruption the crash caused as roads and the airport were closed.
Asked if it put him off flying he said: "I think not, maybe my wife has been put off but that's probably a question for a few weeks."
The couple are expected to return to Norfolk in the next few days.