Guernsey undersea electricity cable to cost £45m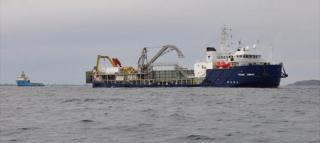 Concern over a repeat of the failure of Guernsey's only electricity import cable has led to plans to build a second being brought forward.
A break in the power cable, which runs to Jersey, was fixed in October 2012 after it failed six months earlier.
The undersea cable allows electricity from France, which can be cheaper than on-island generation, to be imported.
Guernsey Electricity has asked the States if it will guarantee a £45m loan so it can carry out the work in 2015.
Alan Bates, managing director, said: "We were always going to put a second cable to Jersey, all we're proposing is to bring that investment one year forward."
Cable could break
He said since the break in 2012, to the cable laid in 2000, they had been monitoring its condition.
Mr Bates said: "There's an indication that we may have a similar issue again and to bring that cable forward just allows us to have that security a bit earlier.
"Borrowing allows us to spread the investment costs over many, many years and it has a much smaller impact on the tariffs [paid by customers]."
Mr Bates said "the biggest change" in moving the project forward by a year was running the cable along the same route as the current cable.
He said: "It allows us to do the project much more quickly and also it's significantly cheaper than running from two different points."