One third of year fives overweight or obese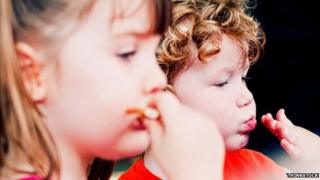 For the second year in a row, a third of children in year five in Guernsey are classed as overweight or obese.
That is one finding from the health department's Child Measurement Programme released on Thursday.
The programme involves taking height and weight measurements of children in school years one and five in Guernsey and Alderney.
Health and Social Services officials say the results reflect mainland UK trends.
'A real threat'
Dr Stephen Bridgman, director of public health, is concerned because overweight children may remain that way as adults and develop related health problems.
"It's a significant health concern for the future and it's certainly seen as a real threat for future health.
"If this continues we're going to see a decrease in healthy life years."
Peter McGovern, head teacher of Notre Dame du Rosaire Catholic Primary School, said he was surprised.
"I am surprised because in my recollection there were more obese children in classrooms 10 or 15 years ago.
"Our children are very aware of what makes a healthy diet and a healthy lunchbox and the things to avoid and the need for exercise."