Young Guernsey smokers face £500 fines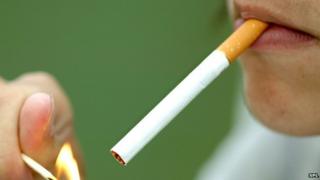 Children caught smoking in Guernsey could be fined £500 if a new law is passed.
The proposal has been lodged in the States by the Health and Social Service Department.
Officials say fines would apply to anyone under 18 found carrying tobacco products in a public place without reasonable excuse.
Health board member Barry Brehaut said the move was designed to protect children from the dangers of tobacco.
The proposal would bring tobacco rules into line with alcohol rules, he said.
"If the police deal with it in the same as they deal with alcohol then it shouldn't be a problem," said Deputy Brehaut.
"We know that children are under an enormous amount of peer pressure to take up smoking and the police have to intervene in the child's interest."
Dr Stephen Bridgman, director of public health, said it was important to target adolescents.
"We know in adolescence, that is when the majority of people who continue to smoke start so it's really important that our strategy looks at how to prevent children starting."