Guernsey storm breach repairs to start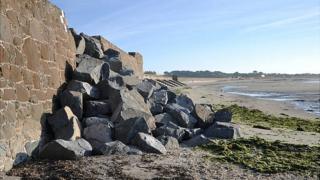 A breach in Guernsey's west coast sea defence could be repaired within two months.
A 7m (23ft) wide hole was created in the Vazon sea wall by storms in March.
Geomarine won the tender for the contract to repair the damage and is due to start work on 21 July using reinforced concrete and granite.
An Environment Department spokesman he hoped the work would be completed before large tides, up to 10m-high (33ft), in September.
He said this was dependent on weather conditions.
The department said traffic along the coast road and pedestrian access to the beach would not be impacted by the works.
However, it has asked islanders to keep clear of the repair works and closely supervise children and dogs as some vehicles will need to access the breach via the beach.