Guernsey hospital water cooler cuts to save £23,500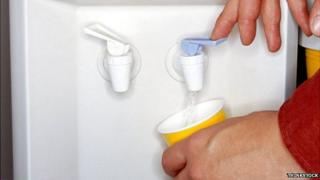 Phasing out the majority of water coolers at a Guernsey hospital will save £23,500, according to the island's Health and Social Services Department.
The coolers have been removed from some wards from the Princess Elizabeth Hospital and patients are being served tap water in jugs instead.
Richard Evans, director of corporate services, said it was worth doing.
He said: "Catering staff will ensure there is a ready supply for patients and they have easy access to it."
Mr Evans said: "Our infection control team prefer us to be able to do that because then we have a better control over the turnover of the water that's available."
Regular flushing of the hospital's water systems was introduced in 2012 following the eradication of legionella bacteria.
The scaling back of water coolers at the hospital is one of the savings made under the Financial Transformation Programme (FTP), a five-year programme aimed at cutting £31m from the States annual spending.