Clipper 'out of action for a week' after seabed strike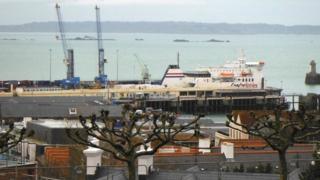 The Commodore Clipper ferry, which struck the seabed off Guernsey on Monday, could be out of action for a week.
Condor Ferries boss James Fulford said that the vessel may have to visit dry docks before resuming service.
Mr Fulford said it was too early to tell why the vessel had struck the seabed, adding that the captain was "very experienced".
He raised the suggestion that a recent earthquake had changed the seabed.
"At the moment it's a mystery," he said. "Some say maybe the earthquake has caused some changes in the channel, but it's too early to speculate."
St Peter Port harbour master Chad Murray said Guernsey authorities were investigating the incident with the UK's Marine Accident Investigation Bureau and the Flag Administration of the Bahamas, where the vessel is registered.
Mr Fulford said divers had inspected the vessel in St Peter Port on Monday and would dive again on Tuesday.
The Commodore Clipper was due to travel between the Channel Islands and Portsmouth but touched the seabed in the Little Russel channel off Guernsey.