Bailiff of Guernsey Napoleonic War letter fetches £450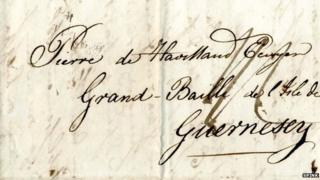 A 200-year-old letter sent to the Bailiff of Guernsey in the Napoleonic War has been sold for £450 at auction.
The letter, from 25 July 1812, was sent from Charles de Havilland, a prisoner of war, to his bailiff father the Grand Bailli de l'Isle de Guernsey.
The Spink and Son auction house had estimated the letter to be worth £250-£300.
The auctioneers described it as "fresh and fine with most unusual and interesting contents".
It is unknown who bought the item.
The letter describes de Havilland's financial difficulties as a prisoner of war in France and his debts are also listed.
The letter states he owes: "The immense sum of 7095 francs, God knows when I can pay you..."
The letter also reads: "I had an argument the other day with an officer and a lawyer about this question. Can an Englishman be tried by the law of England if he defames the character of another Englishman or tries to extort from him while a prisoner of war in France? ... We have a small wager depending on it."