Salerie Corner cycle death: Blind spots 'ignored'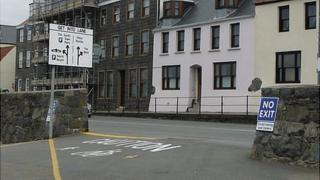 A lorry driver accused of causing the death of a cyclist ignored his blind spots, a court has heard.
David Allison, 59, died at Salerie Corner after suffering serious chest injuries in a collision in April 2013.
He was hit when the lorry turned into a side entrance of the car park, Guernsey's Royal Court heard.
Nigel Paul Simon, 50, from St Peter Port, denies causing death by dangerous driving and driving without due care and attention.
'Ordinary man'
The jurats heard Mr Allison was travelling faster on his bike than Mr Simon's lorry.
A reconstruction of the views Mr Simon had from his mirrors when he turned the lorry were shown to the court.
Prosecuting, Crown Advocate Claire Tee said: "Mr Simon ignored the possibility that his blind spots were there."
Defence Advocate Mark Dunster said: "Mr Simon was an ordinary man, an ordinary lorry driver, just doing his normal work."
He added Mr Simon was familiar with the road and there was no suggestion he was in a rush or distracted.
The trial continues.