Broken parts of sea wall removed from Fermain Bay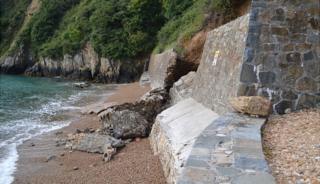 Work is to be carried as part of repairs to a storm-hit sea wall in Guernsey, the Environment Department says.
A 10m (33ft) section of the Fermain sea wall fell away after being battered by waves and high winds in January.
The department said damaged sections of the wall on either side of the breach would be taken down on Wednesday and Thursday.
Part of the wall which fell a few weeks ago, is also due to be broken up.
A digger would be carrying out the work and the area was to be cordoned off, the department said.
Deputy Environment Minister Barry Brehaut said the work had to be carried out for public safety.
After the storms breached the wall, other parts have fallen down and others have been weakened and could also fall.
Deputy Brehaut said: "Recent high tides and bad weather haven't helped."
No date has yet been set for when repairs will take place and the defences are due to be redesigned to better withstand future storms.