Guernsey's marine ambulance the Flying Christine III repaired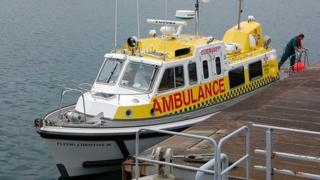 Guernsey's Marine Ambulance should be back in service later this week following the replacement of its specialist gearbox.
The part, shipped from America, was replaced in June because of wear and tear but its replacement failed.
Chief ambulance officer Jon Beausire said the Flying Christine III being out of action had been inconvenient.
He said the St John Ambulance was "extremely grateful" to all the contingency vessels which stood in.
Mr Beausire said: "A bearing was faulty which then damaged other parts of the gearbox.
"Whenever it is out of action we do rely on the good will of the St Peter Port lifeboat and other vessels.
"We are extremely grateful to all the contingency vessels and crew who have assisted us."
The 20-year-old marine ambulance is funded from donations and a small subscription scheme.
It is crewed by volunteer mariners, who provide a response to calls 24 hours a day.