Guernsey deputy resigns over Dairy Industry report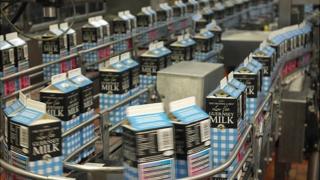 A Guernsey deputy has resigned from the commerce and employment department over its Dairy Industry report.
The report calls for an end to fixed prices and a tightening of the ban on milk imports.
He said milk distributors were being short-changed by recommendations in the report, which will be debated next week.
Commerce Minister Kevin Stewart has described the retailers as "secretive and opaque".
Milk prices are fixed in Guernsey by a 1958 law that also bans imports.
Deputy Queripel said there were ongoing "differences of opinion" between himself and the department.
He denied being pressured to resign by the Guernsey Milk Retailers Association (GMRA), which has not commented to the BBC.
'Great personal cost'
"My concern is that retailers and distributors really feel this is a game changer for them," he said.
"They bought these rounds at great personal cost, sometimes borrowing against their homes and properties.
"Historically, these licences included exclusivity in zones and that's going to be removed and prices floated, and they feel that will have a detrimental impact on their businesses."
Deputy Queripel said the States should consider compensating the milk distributors.
Deputy Stewart told BBC News earlier in the month that the GMRA was "opaque and secretive" while the report was being researched.
"They deliver milk. The most important stakeholders are the dairy and the farmers," said Deputy Stewart.
"They have refused time and again to share information. It's a standard tactic and it's not going to work."
Despite this, he said the industry would remain protected from outside competition.
According to the report, the number of dairy farms in Guernsey has halved over the past decade, from 30 to 15.