Guernsey power station acoustic barrier installed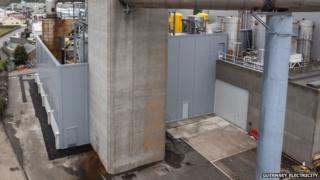 A new acoustic barrier at Guernsey's power station has been installed in a bid to reduce noise disruption.
The new barrier, which ranges between 9-11m (30-36ft) tall near the site's northern wall, surrounds Guernsey Electricity's D power generator.
It replaces a temporary barrier made of shipping containers put up last year after complaints by neighbours.
Guernsey Electricity said it was working with environmental health staff to monitor noise reduction.