Guernsey autism centre to be part of La Mare school rebuild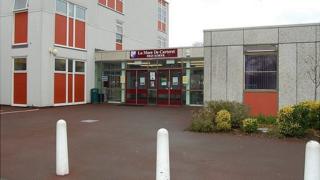 A centre for young people with autism may be created as part of a £60m redevelopment of the La Mare de Carteret school site.
Deputy Chris Green, an Education Board member, said work was due to start next year and the centre would have places for 36 children with the condition.
But, the Education Department has yet to finalise its plans or have the necessary funding agreed by the States.
Deputy Green said it would see the closure of the existing facilities.
These are currently housed at St Sampson's High School and Amherst Primary School.
Deputy Green said it was a chance to improve the facilities and bring the services for primary and secondary pupils into one location.
Catherine Hall, from the Guernsey Branch of the National Autistic Society, said the existing bases at Amherst and St Sampson's "are not really ideal" with one being housed in a portable building.
La Mare de Carteret is the last of the island's three high schools to be redeveloped following the building of replacement buildings for St Sampson's and Les Beaucamps High Schools and the closure of St Peter Port High.