Guernsey milk price rises by 1p a litre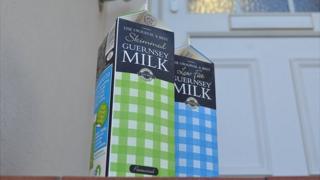 The cost of a litre of Guernsey Dairy milk is rising by 1p to £1.12.
The fixed retail price, which applies to milk sold in shops and delivered to doorsteps, will change from Sunday 5 October.
The price of a half litre and of organic milk, which is only sold in half litres, will also rise by 1p to 64p and 82p respectively.
The announcement comes in the same week the States is due to vote on proposals to end price controls on fresh milk.
The milk price is decided by the Commerce and Employment Department, which is advised by the Milk Price Review Panel.
In announcing the price rise the department said these price increases were "well below RPI changes over the last 12 months".
However, since the review panel was set up in 2007 the price of milk has risen at a rate above RPI over the same period.
According to the States inflation calculator the price in 2014 would be £1.05 if rises had stayed in line with inflation since 2007.
BBC News has approached the department for comment, but has yet to receive a response.