Guernsey Dairy milk price controls to end in 2015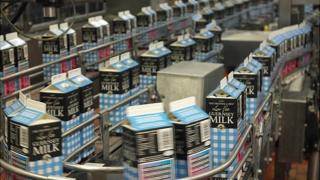 Price controls for Guernsey Dairy milk will end from 1 January.
Currently the price milk can be sold in shops and for doorstop delivery is set by the island's Commerce and Employment Department.
The ending of price controls means retailers and distributors can charge whatever they like.
The move should mean lower costs for consumers as supermarkets put on offers, said Commerce and Employment Minister Kevin Stewart.
It follows a move over the past decade to more people buying their milk from shops, rather than having it delivered, with 60-70% of milk sales now done through shops.
The future of milk distribution and retailing will be the subject of a government report, which is due to be completed by July 2015.
This will include examining if subsidies or compensation should be paid to milk distributors if changing the current arrangements will damage their business.
The States also agreed to introduce stricter controls on the import of milk to protect farmers and the "unique and iconic" Guernsey breed.
The current milk import law was created in 1958 when only whole or full cream milk was available and so the definition of milk does not include newer products such as UHT, which due to this loophole in the law can currently be imported.
Deputy Heidi Soulsby, from the department, said the new laws must protect the island's milk from the "threat" of imported milk to allow the dairy industry to "move forward to a sustainable future".
She said this would allow the States to reduce the subsidy its pays to the industry.