North Beach car park spaces loss permanent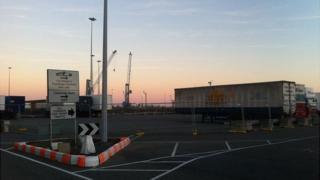 Nearly 200 car parking spaces have been lost from a Guernsey car park to make space for the creation of a larger ferry check-in and freight yard.
The call for a larger area follows Condor Ferries' purchase of a larger ship, which can carry 245 vehicles, 80 more than its current fast ferries.
Guernsey Harbours said the space was essential for the port to handle the extra cars and passengers.
The loss of parking has been offset by the creation of spaces elsewhere.
The 192 spaces were initially lost in 2012 when materials were stored in the area for work on harbour berths ahead of the installation of mobile harbour cranes.
At the time, 183 spaces were temporarily created on the East Arm, which has now been made permanent along with nine additional ones created next to the QEII marina.
The changes were approved by the Environment Department board at an open planning meeting earlier.