Renewed move to develop Fort Tourgis in Alderney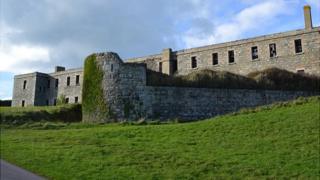 Another attempt to redevelop an abandoned Victorian fort in Alderney is being investigated by the States.
Fort Tourgis has been derelict for decades with previous efforts to turn the site into flats, a luxury hotel, a casino and a hangar having failed.
Francis Simonet, chairman of the Policy and Finance Committee, said two developers have expressed an interest.
He said if a viable scheme was put forward he was confident it would go ahead.
Mr Simonet said they were looking at the possibility of a residential and mixed use development that would be sympathetic to the historical significance of the site.
The fort was built in the 1850s and was further fortified by the occupying German forces during World War Two.