Guernsey lottery profits to fund projects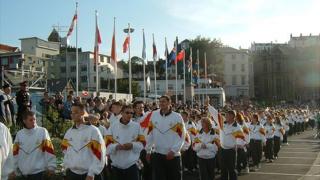 Guernsey events such as Liberation Day and the Island Games could be funded through lottery profits in the future.
The States has agreed to relax rules about how the profits can be used.
Currently they have to be used to support the loss-making Beau Sejour Leisure Centre with the profits from one draw each year going to charity.
The change meant special lotteries could be set up to support specific island events, said culture and leisure minister Mike O'Hara.
He said the funding necessary to support Beau Sejour would still be provided while work continued to cut the annual deficit - currently about £30,000.
Deputy O'Hara said: "We don't want to swamp the communities with lotteries - that would be a nonsense."
---
Guernsey Lottery
Established in 1971 as a means of providing funding for projects that benefit the community
In 1972 the States agreed the proceeds would only contribute to Beau Sejour Leisure Centre, which was then under development
The Lotteries of Guernsey and Jersey merged to form the Channel Islands Lottery in 1975
The annual Christmas lottery has been run since 1975 and money has been donated to charity since 1986
---
He said the aim of each lottery would be to raise funds for a particular event or cause, to follow campaigns such as the appeal for an MRI scanner for the island.
This is expected to include the 75th anniversary in 2020 of Liberation Day, when the island was freed from occupying Germany forces during World War Two, and Guernsey's hosting of the Island Games, which could be as soon as 2023.
States members also agreed the Guernsey profits from the biggest annual lottery held in the island, the Channel Islands Christmas Lottery, would always be distributed through the Guernsey Association of Charities.
The changes will have to be approved in law before taking effect.