Alderney medical airlifts 'affected by Trislander problems'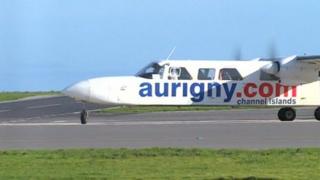 Medical airlifts from Alderney are being affected by technical problems with an aircraft, the island's Chamber of Commerce claims.
The chamber said it was common that one of three 16-seat Trislander aircraft operated in and out of the island by Aurigny, was out of action every day.
Mr Lawrence said a heart attack patient had to be brought back to Alderney after a plane got into difficulties.
Aurigny said it hoped to have four aircraft in service by November.
Instrument failure
Guernsey States-owned airline Aurigny said in April its fleet of six Trislanders were, on average, nearly 40 years old.
Chamber chairman Nigel Lawrence said that, although he had confidence in the airline itself, there was increasing frustration about the ageing planes.
Speaking about medical evacuations, he said: "One island resident who had a heart attack had to be turned back after the aircraft had instrument failure.
"The Barclay brothers' helicopter [based on nearby Brecqhou] offered their assistance. He is now fit and well."
The chamber said tourism, the local economy and property sales were also being affected.
'Record is good'
Aurigny commercial director Malcolm Couper admitted the aircraft were "not as good as we'd like them to be".
He said: "We've known for some time that the fleet is nearing the end of its useful commercial life and having a higher frequency of technical problems."
He said the airline was currently purchasing Dornier 228 aircraft and that a total of four aircraft, including Trislanders, would be available from November.
He added: "It [the heart attack] was a serious incident. But we've operated thousands of medevacs.
"Aircraft will have technical problems and this could have been happened at any time. But I think our record is very good."