Royal letters and photos go under the hammer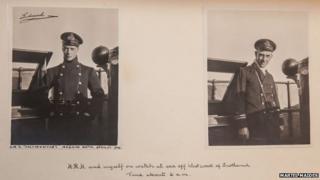 A unique collection of letters from two royal heirs to their mentor will be auctioned in Guernsey on Thursday.
The letters from the future Kings, Edward VIII and George VI, were written to Admiral William Campbell Tait in the early 20th century.
Some of his descendants live in Guernsey and hope to raise £45,000 from the sale.
In one letter, Edward expresses frustration at being barred from taking part in the First World War.
Writing on 5 August 1914, the day after Britain entered the war, he tells "Dear Tait" of his shock that the country was at war with Germany.
He also relays his disappointment at not being allowed to fight because of his Royal status.
'Death blow'
"It is all too big and too ghastly to comprehend this general European war, to think that little over a fortnight ago I was with you," the prince wrote.
"Oh God!! How I envy you all on active service, ready to deliver to those bloody Germans what I am confident will be their death blow!!
"While you are all out undergoing hardship and risking your lives, here I am left at home with the women."
Admiral Tait was hand-picked by the princes' mother, Queen Mary, to mentor the adolescent royals.
The collection suggests the princes and the admiral became close, exchanging letters until at least the 1930s, the auctioneers said.
In 1936, Edward VIII abdicated after a year on the throne, making his younger brother king.
James Bridges, director of Martel Maides Auctions, hopes the 167 letters will be bought by a collector, or even the Royal archive.
"They are a pretty unique archive from perhaps the two most important princes in the Royal family in the first half of the 20th century," he said.
"It would be tragic if they were split up.
"One hopes they would be bought by a private collector or a museum or perhaps even by the Royal Collection."