Guernsey's health department board resigns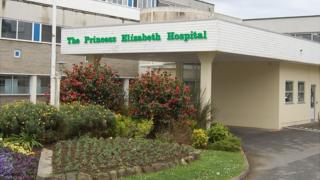 Guernsey's health board has resigned following "deep concerns" over midwifery supervision.
A review was commissioned by the Nursing and Midwifery Council (NMC) following the death of a newborn baby earlier this year.
The board said changes had been made to "minimise the risk of the circumstances that led to this tragic incident ever happening again".
Health Minister Mark Dorey said the board had unanimously agreed to resign.
In a joint statement, the board said: "We offer our heartfelt condolences to the family who lost their baby.
"The public... must be absolutely reassured that all the necessary systems are in place to provide consistently excellent clinical care across our maternity services."
---
Changes implemented:
Four midwives on every shift compared to three
An additional midwifery clinical lead is being recruited, which will mean six working on the maternity ward at the Princess Elizabeth Hospital
A supervisor of midwifery will be recruited for six months with 24/7 supervisory support from Jersey
The working patterns of obstetricians have been changed on a trial basis and will be subject to ongoing review
Changes to the procedure for approving medicines to be administered during labour
---
The department has commissioned a further review of maternity services in the Bailiwick including obstetric and paediatric practice.
Mr Dorey said: "Principally, as politicians we are responsible for strategy, policy and to be accountable for the department.
"Recent reports on midwifery did not identify any significant problems. However, as the board is accountable, this is best demonstrated through our resignations."
The other four members of the Health and Social Services Department (HSSD) board are Deputy Minister Martin Storey and Deputies Elis Bebb, Barry Brehaut and Al Brouard.
They will remain in post until their replacements are elected, which is expected to be at the next States meeting, which starts on 29 October.
It is the second time in two years the board has resigned.
'Need significant improvement'
The department said Guernsey's infant death rate for 2010 to 2012 was one per 1,000, which is significantly lower than the most recent comparison rate for England and Wales at 4.3 per 1,000.
Guernsey's Deputy Chief Minister Allister Langlois said: "It is clear to me that parts of the service at the moment need to be significantly improved."
Jackie Smith, the Nursing and Midwifery Council's chief executive, said: "We are deeply concerned by reports we have received about the quality of supervision of midwives in Guernsey and what effect that may have had on public safety.
"We are working closely with Guernsey's Health and Social Services Department in order to protect the public."
Niall Dickson, chief executive of the General Medical Council, said: "We are aware of the concerns raised by the Nursing and Midwifery Council's review and we are monitoring the situation closely."