Guernsey L'Ancresse golf clubs reject rent rise plans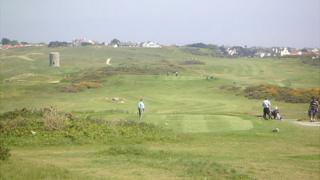 Two golf clubs have rejected council plans to increase their annual cost of rent from £100 to £80,000.
The two private clubs rent the course at L'Ancresse in Guernsey from the Vale Commons Council.
A 70-year lease ends in 2016 and the authority has offered a new lease for 25 years with an annual rent of £80,000 to the clubs.
Both the Royal Guernsey and the L'Ancresse clubs believe it is an unfair proposal.
'Unrealistic plan'
Previously, the council said the course may be opened to the public or used for something else if the lease was not agreed.
The authority needs to raise about £160,000 per year to fund the future maintenance of the entire common.
It plans to raise most of the money from the golf clubs.
However, the clubs claim they already pay £500,000 towards the maintenance of the common each year.
Both clubs told the BBC "the plans are unrealistic" and said they were willing to rent it for £50,000.
The council is yet to comment.
---
What are the Vale Commons
Covers about 740 vergees (a vergee equals 17,640 sq ft, 1,639 sq m or 0.405 acres) including open spaces and large areas of gorse and other important wildlife habitats
About 370 vergees are used for playing golf, which has been played on the common since at least 1890
It includes 10,000 sq m of car parks, 7,000 sq m of footpaths and tracks
It has important historical sites including Neolithic sites and fortifications from the Napoleonic era and the German occupation during WW2
It is managed by the Vale Commons Council, which is elected by inhabitants of the Clos du Valle - an area in the north of the island that was previously separate from the main island
---