La Mare de Carteret schools: Plans for rebuild announced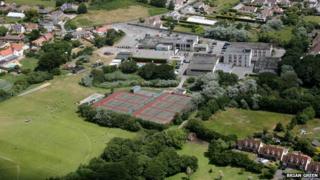 Plans to redevelop two Guernsey schools at a cost of £59m have been announced.
The education department has revealed proposals to rebuild La Mare de Carteret High School and La Mare de Carteret Primary School.
The plans include a bigger indoor sports hall, improved outdoor sports courts and a centre for 36 children who have autism.
If the States approve funding for the project in November, building work could start next May.
Head teacher Vicky Godley said the atmosphere at the schools would be "very low" if the plans were not approved.
'Not gold-plated'
Education Minister Robert Sillars said: "It is what these children and future generations deserve and we believe we have made a compelling case for this project to go ahead.
"The redevelopment of the La Mare de Carteret schools is not extravagant, it's not gold-plated, it's not too big and it's not too soon.
"We can afford it, we must afford it."
Staff and pupils could move into the new buildings in September 2017, the Education Department said.