Guernsey car fire woman billed for road repairs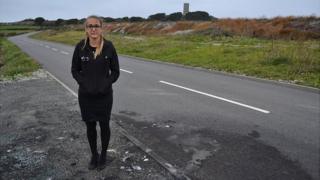 A woman whose car was "engulfed by fire" has been asked to pay £940 to fix part of the road damaged in the blaze.
Nicole Wyatt, 27, was taking three visiting musicians on a trip to Lihou Island, on Guernsey's west coast, when her car burst into flames.
Almost two weeks later, she received a letter from the States asking her to pay to replace a section of the road.
Guernsey Roads said as there was major damage to the road, it would look to recover the repair costs.
Ms Wyatt said she had been asked to pay to repair an area of 8 sq m (86 sq ft).
"I would expect something. But £940 and 10 days after the accident has meant that it can't actually go in my initial [insurance] claim," she said.
"I only had a VW Lupo - I don't even think if you took a rolling pin to her, she could have made eight square metres."
Describing the fire on 10 October, Ms Wyatt said: "We came round the corner, smelled something funny and 250m later, pulled over and the front of my car was completely engulfed in flames.
"We got out, grabbed as much of our belongings as we could and we just had to stand back and watch the car burn.
"[It's the] most frightening experience I have ever endured."
A spokesman for Guernsey Roads, part of Public Services, said: "We expect they [the drivers] have insurance in place for the damage to their own property, and anyone else's, and our view is the road should be treated no differently.
"In this instance, there is major damage to the road surface. If we don't look to recover this, it will have to come from the roads budget, which is funded by taxpayers generally."