Guernsey minister in further threat to ban fireworks sale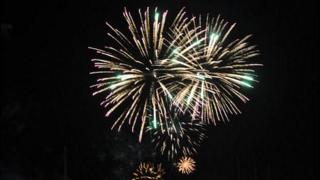 Further threats of a ban on fireworks sales if Guernsey residents ignore moves to limit when they are set off, have been made by a senior politician.
The sale of fireworks to the public is already limited - this year it will be from 25 October until 5 November.
Islanders have also been asked to only hold private displays on the 5, 7 and 8 November, finishing them before 21:00.
Kevin Stewart, commerce and employment minister, said if fireworks still cause a nuisance he will propose a ban.
He said: "The ultimate backstop is I'll jump up and down and on a personal level and will bring something to the States to prevent the sale of private fireworks.
"What I'm appealing to people to do is really think about your neighbours, the problems you cause if you don't stick to these dates."
A spokesman for his department said: "There are no current plans to change the legislation affecting the sale and use of fireworks."
Suzy Rose, from the group Better Fireworks Regulations for Guernsey, said: "We are not trying to reduce the pleasure that many get from fireworks, but to ask that the feelings of those who become distressed by them are respected too."
Peter Rose, also from the group, said: "It's supposed to be bonfire night, it's turned into bonfire fortnight... one night or two nights you can cope, but it's when you don't know when it's going to happen over a prolonged period."
Gareth Griffin, who has sold fireworks at Oatlands for 15 years, said retailers took their part in reducing nuisance fireworks very seriously.
"Guernsey is the only place in the British Isles that has a minimum purchasing age of 20.
"Retailers do not sell - and have not for several years - bangers, mini rockets, air bombs or any fireworks that just produce an annoying bang without a colour effect."