Guernsey States appoints Colin Vaudin as information officer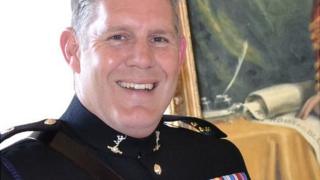 A former British Army officer who served in Afghanistan has been appointed as the States of Guernsey's first chief information officer.
Lt Col Colin Vaudin returned to the island of his birth last year having commanded Two Signal Regiment during a six-month tour of duty.
In his new role he will be tasked with creating a single technology infrastructure for the States.
This includes an emphasis on "driving efficiency and cost reduction".
The aim is to improve not only back office functions, but "transform the way" the States interacts with islanders, businesses and its own employees by creating a single government portal - expected to be hosted on its website.
'Digitalised and simplified'
More details of the role, which could involve a salary as high as £120,000 a year, were released after calls from some island politicians.
They were released alongside an apology by the island's Chief Minister Jonathan Le Tocq after advertising for the job began before all States members had been informed of its creation.
Mr Vaudin, who took up his post earlier, said: "We need to become digital by default - that is, the States' interactions and transactions with the public should be digitalised and indeed simplified.
"The States of Guernsey has a major part [to play] in the development [of] a new low environmental impact high value digital economy.
"To do this effectively we will also need to build a trusted, robust and secure digital environment."
Paul Whitfield, chief executive of the States, requested the role be created as he believed it would deliver significant savings in the long term.
He said: "[Mr Vaudin's] leadership in the military, including the development and co-ordination of international multi-agency ICT systems and networks in Afghanistan demonstrates his unique experience and expertise."