Guernsey WW1 parish memorial is unveiled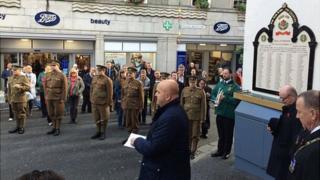 Photographs and information about soldiers killed in World War One will be published to mark the reinstatement of a Guernsey parish memorial.
A wooden plaque was first unveiled in 1917 in memory of those from St Peter Port parish who had been killed, with an enlarged version erected in 1920.
The new plaque, made of acrylic and stainless steel, with 196 names on it was unveiled earlier.
Keith Pike, from the committee behind it, said the booklet was a great extra.
He said it was only possible thanks to the generosity of donations, which have reached £4,500, far above the initial target of £2,000.
The original plaque was taken down in 1955 when the wall was repainted, but the wooden frame had rotted and parish authorities could not afford to replace it at the cost of about £50 - the equivalent of £1,200 today.
'Unusual work'
Mr Pike has found photos for about 150 of the 196 servicemen and they will feature in the booklet, which will be available for a donation towards the upkeep of the memorial.
It is due to be released in a couple of weeks so it can include pictures of the unveiling.
Dan Smith, managing director of Smith Signs, has produced the new plaque.
He said: "Unusual work like this doesn't come along very often. It was a pleasure to work on it and we're proud to play our part."