Flybe plane from Guernsey to Birmingham loses propeller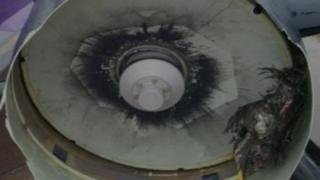 A plane lost one of its two propellers when it hit birds during a flight from Guernsey to Birmingham.
The bird strike happened soon after the aircraft left Guernsey but it was able to continue the hour-long journey and land safely in Birmingham with one propeller.
The incident on the 78-seat Bombardier Dash-8 was reported to the Civil Aviation Authority (CAA).
The airline involved, Flybe, said passenger safety was its "priority".
Captain Ian Baston, Flybe's director of flight operations and safety, confirmed the incident on 8 November.
"The aircraft continued its journey safely to Birmingham International Airport and was met by emergency services as a routine and precautionary measure only," he said.
"Once at its stand all passengers disembarked normally.
"Flybe operates its fleet of aircraft in strict compliance with all manufacturers guidelines."
The CAA recorded a total of 2,467 bird strikes in 2013.
A spokesman said: "We have received a mandatory occurrence report from Flybe relating to a bird strike, which occurred during a flight on 8 November.
"The aircraft landed safely at Birmingham Airport, with no injury to any passengers or crew."