Guernsey Electricity to examine cable between islands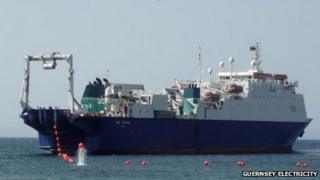 An examination of the electricity cable between Jersey and Guernsey is to be carried out "as soon as possible".
Guernsey Electricity said the ship Wave Sentinel will carry out the inspection and pinpoint any areas of concern.
The area to be inspected is off Les Terres Point, to the south of Havelet Bay.
The company is planning to lay a second undersea cable next year at an estimated cost of £45m.
Alan Bates, managing director of Guernsey Electricity, said: "If there are any question marks over the existing cable it is important that we get an alternative supply route in as soon as possible."