Channel Island drug smugglers found guilty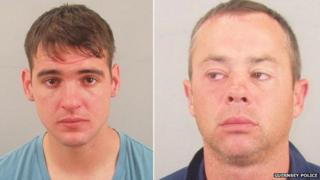 Two Channel Islanders have been found guilty of attempting to import cannabis worth £190,000 into Guernsey.
Craig Allen Dodd, aged 30, of Guernsey, and Oliver Butler, aged 35, of Jersey, had denied smuggling 7.5kg of cannabis resin by sea.
Dodd also denied importing 250g of heroin.
The Royal Court heard they had attempted to import the cannabis in an inflatable speedboat from France in September 2013.
The class B substance was discovered in a rucksack near an old fishing boat on the east coast shortly after the pair were arrested by customs officers on cliffs near Bec du Nez.
Dodd was also found guilty of smuggling heroin into the island in a separate incident.
Customs officers found the drugs hidden in a plastic bag under the pontoon walkway at the QE II Marina in February 2013.
They had arrested Dodd after he spent all day away from the island on a jetski. Phone records indicated he had been to France.
Earlier in the week-long trial the prosecution described both events as old fashioned cases of drug smuggling.
No evidence or witnesses were provided by the defence and Jurats took just over an hour to find the pair guilty on all charges.
They will be sentenced on 26 January.