Alderney air links: Plane failure affects patients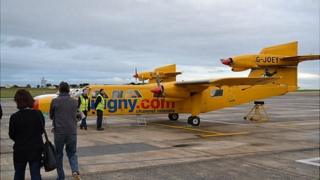 Alderney residents have been denied medical treatment due to the lack of a basic air service, a senior island politician has said.
It follows no flights travelling to or from the island on Wednesday morning due to reported technical problems with Aurigny's Trislander planes.
Francis Simonet, policy and finance committee chairman, described it as "utterly disgraceful".
Aurigny has apologised for the disruption.
The airline is due to replace the three Trislanders with Dornier 228 planes, in a bid to end technical problems but none of the aircraft have yet arrived.
'Unmitigated disaster'
A statement from the committee said: "A significant number of people were on their way to or from important medical appointments and were stranded in Alderney, Southampton or Guernsey."
Mr Simonet said: "Patients have been denied treatment today due to Aurigny's obvious inability to provide the most basic service."
In a statement, the airline said the problems were caused by the Trislander's age and unreliability and delivery of the replacement Dornier had been delayed.
The new aircraft would begin test flights in days, the statement said.
Andrew Eggleston, president of the Alderney Chamber of Commerce, said: "The repercussions of these constant delays and cancellations are resulting [in] a most negative impact on every business sector in Alderney.
"What should have been a seamless transition from the Trislander to the Dornier has been an unmitigated disaster," he said.
"We remain in the shadows feeling like second-class citizens being patronised by a pat on the head with the suggestion that all should work out in the end."
Aurigny is the only commercial airline licensed by the States of Guernsey to provide flights to and from Alderney.
Alderney residents have to fly to Guernsey or Southampton for treatment unavailable at the island's Mignot Memorial Hospital.