Sark islanders claim harassment from newspaper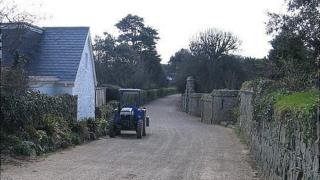 Islanders in Sark claim they are being harassed by a local newsletter.
A Guernsey Police spokesman said: "I can confirm we have received about 50 complaints from Sark residents... these are being reviewed."
The Sark Newspaper, previously the Sark Newsletter, is produced by Kevin Delaney, chief executive of Barclay brothers-owned Sark Estate Management.
Last week he announced the closure of the four hotels run by the company's subsidiary Sark Island Hotels.
In its 14 November edition, the Sark Newspaper described the island's government Chief Pleas as "a one ruling party state reminiscent of 1930s Germany".
'Profoundly uncaring'
It suggested its "only economic policy is one of willful [sic] destruction".
The 21 November issue described the closure of the four hotels as one of the "repercussions of the one ruling party state's six-year campaign to destroy Sark's economy".
It also accused the government of being "economical with the truth, deeply entrenched, profoundly uncaring and unwilling to acknowledge reality".
Seigneur Michael Beaumont, the feudal lord of the island, is often criticised in the paper, being described most recently as having "contempt for the working population of Sark" and "indifference to their plight".
Conseiller Rosanne Byrne, a member of Chief Pleas, said: "The allegations in the Sark Newsletter continue to have a huge impact on morale on the island. It is blighting my life and the lives of my family.
"It is a small island and to know that this is being put through your neighbours' letterboxes and on the internet week after week is horrible."
Advocate Gordon Dawes, legal representative for Mr Delaney, said his client was "not surprised" at the complaints and believed the "vast majority of those complaining are supporters of the single ruling party in Sark posing as ordinary members of the public".
He said Mr Delaney saw the actions as part of a "concerted attempt over the years to close down Sark's only newspaper and only effective political opposition".
The statement said Mr Delaney saw his primary role as "exposing the government of Sark weekly... in the interests of transparency, openness, accountability and, most of all, in the public interest".
Mr Dawes, who separately represents the Barclay brothers, said he had not been instructed to comment on their behalf.
The Sark Newsletter was first published in 2009 and rebranded as the Sark Newspaper in September and is published irregularly, but generally weekly.
Copies of each issue are sent to the secretary-general of the United Nations, the UK home secretary, the lord president of the Privy Council and the Queen's private secretary.
Mr Delaney's statement said Sir David and Sir Frederick Barclay have no input in the content of the Sark Newspaper.
---
The Barclay brothers and Sark
The twin brothers bought Brecqhou, the island next to Sark, in 1993 and built a castle-style home
A legal claim Brecqhou was not part of Sark was rejected
Since then the Barclays have questioned how Sark is run in a number of court cases, which led to the introduction of democracy and the splitting of the role of seneschal
The brothers' representatives have continued to push for further reform
Their companies, mainly Sark Estate Management, own about a third of Sark
Sark is ultimately owned by the Queen, but the monarch can only act through the UK government
---