Guernsey glass kerbside recycling trial under way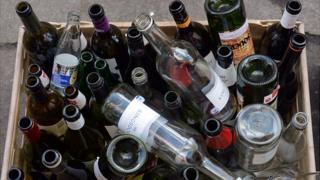 Glass recycling will be collected from more than 350 households as part of a trial to expand kerbside recycling in Guernsey.
Weekly overnight collections began across the island in March for paper, cardboard, plastic, tins and cartons.
The six-month trial in St Peter Port will look at the amount collected and the impact of the collections.
Two collections have already taken place and Public Services received noise complaints after each.
Shelley Nicholls, waste prevention and recycling officer, said: "Noise is one of the things the trial will test, so we want to hear from anyone who is disturbed by the collections.
"We are also looking at other elements, such as how the reusable bags work, and what sort of volumes we are likely to get if we can include glass in the materials that we collect kerbside."
Any householders in St Peter Port with waste collection on Monday nights may be able to sign up to the scheme by calling Public Services, but they have to be on a road accessible by the large collection vehicle and be provided with recycling bags.
Last year, more than 1,700 tonnes of glass was recycled - it is crushed on island and used by building companies as a replacement for aggregate.