Jersey unlikely to win Guernsey waste deal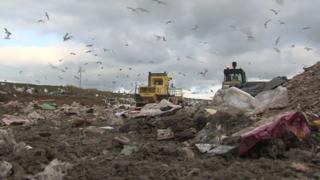 Waste from Guernsey is not likely to be processed in Jersey, after the island emerged as the most expensive bidder in a tendering procedure.
The States needs to find an alternative to landfill and is assessing various energy-from-waste plant sites.
Prices quoted range from £109 to £255 per tonne - with Jersey the highest.
Companies in Belgium, Holland and Sweden are on the shortlist but the Guernsey Public Services Department cannot say how much each has bid.
Andrew Lewis, Chairman of the Jersey Public Accounts Committee said: "It is putting electricity into the Channel Islands grid, which Guernsey benefits from as well, so it makes sense to keep it close to home.
"But Guernsey is not going to do that to the detriment of the Guernsey taxpayer, they want a good deal as well."
A spokesman for Guernsey Public Services Department said: "While the procurement process is imminent, it would be inappropriate for us to comment on any prospective bidder or destination."
Jersey's transport and technical services minister, Deputy Eddie Noel, said Jersey's proximity to Guernsey would not be an overriding factor in determining the contract.
He said: "The facilities in Europe are designed to be power stations to accept waste from other areas to fuel those power stations. Our facility was designed to deal with Jersey's waste."
The cost to Guernsey householders of processing waste is expected to nearly double in future, from about £100 to £190 per year.