La Mare de Carteret schools redevelopment reviewed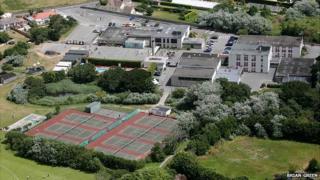 A planned £59m redevelopment of La Mare de Carteret schools will only go ahead once the scope and cost of the project have been reviewed.
The independent review was suggested by Guernsey's chief minister and deputy chief minister over concerns about the scale and size of the plans.
The plans include secondary and primary schools, an autism centre and improved indoor and outdoor sports facilities.
Politicians voted in favour of the review by 26-18.
Some States members raised concerns the review would delay the rebuild, which is hoped to be completed before September 2017.
La Mare de Carteret is the last of the island's three high schools to be upgraded after St Sampson's High School - along with Le Murier School for children with learning difficulties - opened in 2008 and Les Beaucamps High School opened in 2012.
Education Minister Robert Sillars told the States "he'd like to apologise to all the students, parents and teachers that I have let down".
The review is due to be completed by March 2015 and a project board set up to oversee the redevelopment.