Guernsey kidnap insurers 'do not pay terrorists'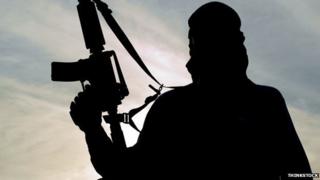 Guernsey insurers are not supporting terrorism by paying kidnap ransoms, according to a lawyer, after proposed changes to UK anti-terror laws.
The Channel Island is a world centre for kidnap and ransom insurance.
Chris Anderson, of Carey Olsen, says insurers are aware of the potential threat of financing terrorism and are already "cautious and compliant".
Home Secretary Theresa May has targeted the role of the industry in a new counter-terrorism and security bill.
The industry is estimated to be worth hundreds of millions of pounds.
'Payment prohibited'
The proposed anti-terror legislation explicitly bans insurers from reimbursing policy-holders who have paid ransoms to outlawed groups.
Mr Anderson, who advises on the legal aspects of kidnap and ransom insurance, says the law is already clear.
He told BBC News: "I don't think there ever was any question of insurance companies here paying ransoms to kidnappers.
"There are various international bodies who create lists of proscribed organisations and payment to them is prohibited.
"If my daughter was kidnapped and I paid ransom money to the kidnapper I am covered under my policy for the amount paid.
"However, if that kidnapper was a member of a proscribed organisation the insurance company would be unable to pay.
"My understanding is that most ransom payments are not paid to terrorist organisations."