Guernsey planners reject GT cars site garage changes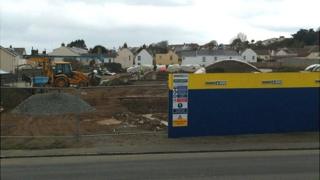 Changes to plans for a garage on Guernsey's east coast have been rejected by planners after concerns were raised by neighbours.
Developers Comprop wanted to add two extra fuel pumps, raise the height of the garage store and put refrigeration units on its roof.
A petition from 21 residents argued the changes would impact on their natural light and create traffic problems.
The Environment Department board voted 3-2 against the changes of plans.
Janet Brookfield, a nearby resident to the site on Les Bas Courtils, said she was "pleased and quite relieved" after the decision.
The location had previously been used as a car showroom - GT Cars - and was the site of the Priaulx Quarry, which was used as an unofficial landfill for waste including vehicles and contaminated soil.