Island election: Louis Jean and Graham McKinley voted in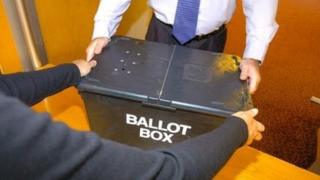 Alderney politicians Louis Jean and Graham McKinley will represent the island in Guernsey States.
They came first and second in a vote on the Channel Island and will serve a three year term in office.
The other two candidates were Matthew Birmingham and Chris Rowley.
Subject to final approval from Alderney States, this will mean a second term as Guernsey Representative for Mr Jean, while it will be Mr McKinley's, who was elected in November, first term.
The 10-member Alderney States sends two representatives to Guernsey States.
Alderney is self-governing and one of the principal islands of the Bailiwick of Guernsey, which also includes Sark and Herm.