Guernsey Electricity says oil price fall 'unlikely to be passed on'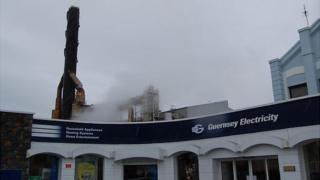 The fall in the price of crude oil around the world is unlikely to lead to a price cut for Guernsey Electricity customers, the company says.
The firm's managing director Alan Bates said the current drop in oil prices would not have a significant effect on the cost of supplies into the island.
It follows issues with undersea cables, limiting the amount of electricity that could be imported from France.
Mr Bates said the firm passed savings on to customers whenever possible.
He said problems with the power cable link to Jersey and onto France since 2012 had led to an increase in on-island generation, which required fuel to be imported.
Mr Bates said this had now been fixed following the installation of a new cable Normandie 3, between Jersey and France, and so about 80% of Guernsey's electricity was being imported from France.
Problems with the cables meant electricity could not be imported and was limited to 40% while one cable remained out of action.
Mr Bates said: "We have committed to increased importation from France as this will deliver the lowest costs for customers.
"Whilst crude oil and fuel prices have fallen, this does not now have a significant effect on the costs of our supplies.
"We will still be importing fuel for our diesel engines and will do so carefully using hedging and forward contracts - essentially buying in blocks at fixed prices - to ensure greater stability of costs.
"This protects our customers from peaks in the price of oil and imported energy.
"Our customers prefer that we provide consistent pricing and we are pleased that our tariffs have not increased for over two years."
The company serves 30,000 customers on the island and its sole shareholder is the States of Guernsey.