Guernsey customers 'happier' with telecom company Sure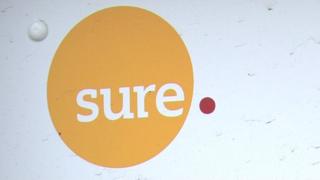 More than two-thirds of people responding to a survey said they were satisfied with Guernsey's only fixed line telecom company.
The biannual survey is produced by the Channel Islands Competition and Regulatory Authorities (CICRA).
Sure, owned by Batelco, is to face competition in the home phone market for the first time from June.
Of the 500 people questioned, 68% said the service was satisfactory or highly satisfactory, up from 57% in May 2014.
The second survey was carried out in November 2014, the next is expected just before the introduction of fixed line competition.
Just over a quarter of people responding said if the option was available they would be likely or very likely to change provider. That is down from 37% in May.
A similar survey of JT customers in Jersey, also the only fixed line operator in the island, found 70% would change operator if they could.
JT and Sure have both said they would be operating fixed line services in each island when competition is introduced.
CICRA director, Louise Read, said: "One of the aims of the initial survey was to bring greater transparency as to how the operators are perceived by their customers.
"Our expectation was that operators value their customers and would initiate improvements themselves. This second round of survey results suggest Sure has done that which is excellent news for customers."
One of the biggest changes was in how people felt the billing process was working. In May, 57% rated it as satisfactory or highly satisfactory, that increased to 66% in November.