Call to retain historic Fermain Bay sea wall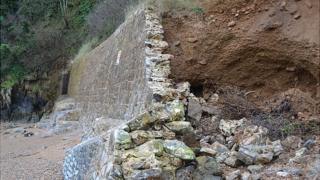 Storm repairs to Fermain sea wall should retain its historically significant features, Guernsey's historic sites curator has said.
A 10m (33ft) section of the wall on the island's east coast fell away due to storms in January 2014.
Helen Glencross has been consulted on the wall's historic importance.
She said it was likely to have been built in the late 18th Century as a defensive fortifications, rather than a sea defence.
Mrs Glencross said: "It's unlikely it was built to protect the cliff behind as originally there would have been a gap between the wall and the cliff face."
In the 1770s a loophole tower and battery were built in the bay so the wall could have formed part of these defences.
An Environment Department spokeswoman said a number of options were being discussed and capital project funding would need to be secured before a tendering process could start.
Previous estimates have suggested the work could cost about £500,000.
Mrs Glencross said she hoped a "sensible decision" could be made based on the safety of beach users, the cost and retaining "as much of the historic fabric as we can."