More passengers on Guernsey buses in 2014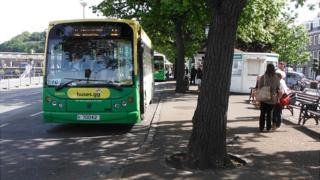 Passenger numbers on buses in Guernsey increased in 2014.
The increase in the number of passengers follows a decline from 2010 to 2013.
Guernsey's Environment Department said higher numbers of passengers during winter months were "particularly encouraging".
A spokesman for the department said the growth was expected to continue in 2015 with promised service improvements.
Bus passenger figures for 2014 have risen to 1,467,103 compared with a total of 1,354,993 in 2013 - an increase of more than 8%.
Bus company CT Plus will take on a new five-and-a-half year contract from 1 April.
A spokesman for the Environment Department said there would be "a number of associated service improvements, including a phased replacement of existing buses with new narrower vehicles".
The department said new technology would enable users to go online to see the location of their bus in "real time".
The spokesman said: "The rise in the winter months is particularly encouraging and shows that it is not down to any seasonal variation in the number of visitors carried on our services."