Murderer Craig Rouget returns to Guernsey Prison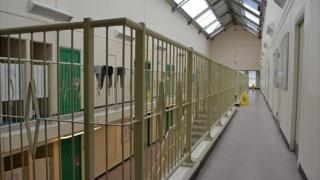 A decision to bring a convicted murderer back to Guernsey to serve his sentence was based on value for money, the island's home minister has said.
Craig Rouget was sentenced to life in prison for stabbing 21-year-old James Dean in the High Street in 2006 and was transferred to the UK in 2008.
Deputy Peter Gillson said it was "an emotive decision" not "taken lightly".
He said: "We are duty-bound to ensure that public funds are spent in the most appropriate way."
The family of Mr Dean lodged formal complaints and friends of his launched an online petition opposing to the transfer.
"The fact that the man who murdered my son would be living and sleeping a couple of miles away was absolutely devastating," Chris Dean, James' father, told the BBC in December.
The family said they were disappointed the transfer had gone ahead anyway, but did not want to comment further.
Deputy Gillson said in a statement: "Rouget has been classified in the UK as a Category C prisoner and his transfer is temporary - any change to his status (parole or a further change in category, for example) would result in his immediate transfer back to the UK.
"I can confirm that Craig Rouget was transferred to Guernsey Prison on Thursday, 15 January. The transfer was undertaken on a commercial flight and passed without incident.
"The original planned arrival date was Tuesday 6 January, but this was delayed due to a mistake on the risk assessment provided to the airline by UK staff."
Rouget is the third prisoner serving a life sentence to be brought back from the UK since improvements to Guernsey Prison gave it the capability to accommodate those serving such sentences.