Guernsey ormer numbers 'risked by online sales'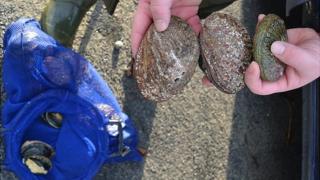 A Guernsey delicacy could be at risk due to people profiting from its collection, a deputy has warned.
It follows a growing trend for ormers - known as abalones elsewhere - to be sold via social media.
There are rules governing the size and when the mollusc can be collected, but no limit on the amount collected.
Deputy Barry Paint believes the sale of ormers should be banned to protect the stocks in the sea. Sea Fisheries said it monitored the impact on stocks.
Senior officer Chris Morris said the rise in online sales was not a surprise as it was "a very easy, quick way of selling ormers".
He said: "Over the three day tides we're seeing the same people gathering on the first tide, selling, gathering on the second tide, selling, and again on the third."
Mr Paint believes the money that can be made may encourage people to take more than they need and could damage future numbers.
---
Ormer collection
It is only allowed on specific days - generally those of the full moon, new moon and two days following, between January and April each year
Only ormers larger than 8cm (3in) can be harvested
While collecting you can not be partially or fully submerged, or use any breathing equipment, snorkel or diving suit
Once gathered they cannot be kept unpreserved for more than two days after the permitted days, with preserved meaning cooked or pickled, but not deep frozen
Ormers can not be exported without permission from Sea Fisheries
Breaching of any regulations can lead to a fine of £5,000 or six months imprisonment
---
Mr Morris said any sale of ormers was a commercial enterprise and if it increased it could be "very quickly unsustainable".
He said Sea Fisheries monitored the catches taken around the island and off Herm and Jethou.
Mr Morris said: "It's about finding that right balance of preserving a way of life within the Bailiwick, but also protecting the marine environment and the ormer stock.
"There's many people that go gathering for ormers and they don't particularly like them themselves but they go to the old people's homes or they give them away to other people.
"We don't want to bring in a law that would stop that."
The issue was part of a consultation carried out late last year, the results of which are due to be put before Commerce and Employment in February or early March.