Guernsey's Petit Port Bay steps repairs make progress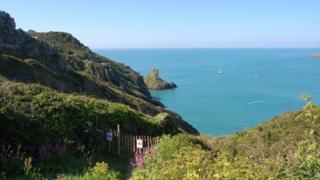 Progress is being made to repair steps to a Guernsey bay, a minister says.
The steps to Petit Port Bay were shut in May after damage caused by heavy rainfall in storms last year.
The environment department said planned maintenance and an inspection would be carried out when a contractor was appointed.
Minister Yvonne Burford said the work would be the "first step towards getting the staircase reopened this year".
'Good news'
The bay was previously closed between 2001 and 2005, after a series of landslides made the area too dangerous to access.
It was only reopened after new concrete steps, handrails and fencing to contain rockfalls were installed.
After the steps were closed last May, fears they could remain closed permanently due to the cost of repairs were raised by a St Martin's Constable Gerry Tattersall in December.
He said he believed the costs were too high for the environment department to consider the work.
Ms Burford confirmed then that costs over the past 10 years averaged out at £77,000 a year.
However, she said that although there was no "firm assurance that the steps will reopen for the summer", she said the latest development was "good news and we must hope that further good news will follow after the inspection".